Airbrush Workshop Voor beginners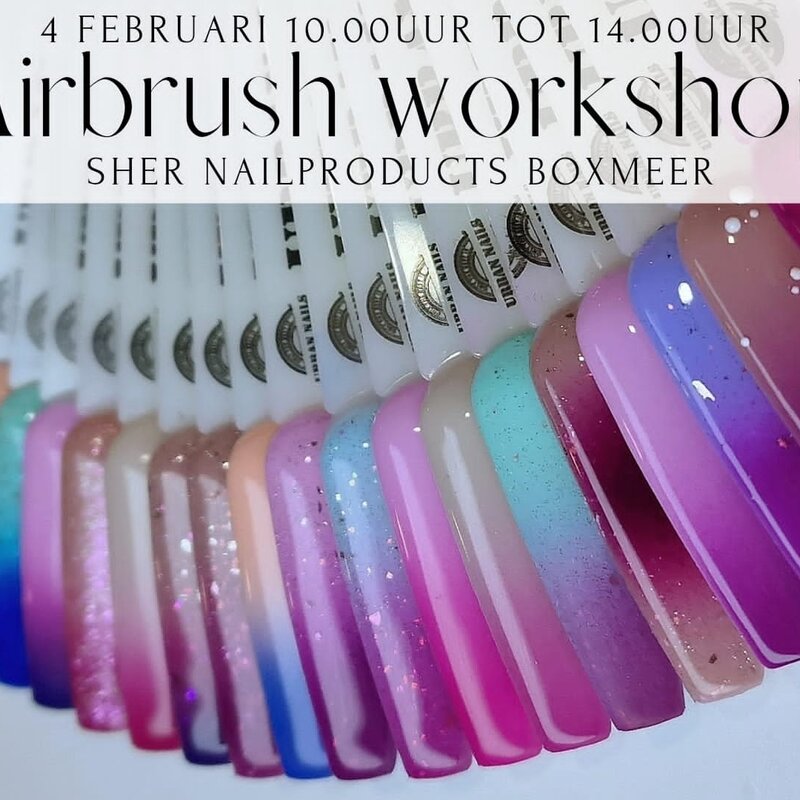 Airbrush Workshop Voor beginners
€ 59,95
€ 72,54 Incl. btw
De Hype van deze tijd. Ken je het nog niet of wil je er meer over te weten komen?

Leer dan de eerste stappen van de airbrush technieken.
Lees meer
Voor 15:00 besteld, dezelfde dag verzonden
Gratis verzending vanaf € 25,- (excl. BTW)
Cadeautje bij iedere bestelling
De airbrush workshop voor beginners
Deze workshop is speciaal ontwikkeld voor jou! Jij bent de nagelstyliste die start met airbrushen.
De airbrush helpt jou bij je salon nailart.
Zo leer je in een handomdraai de mooiste overgangen maken. Zoals mooi sunset ombre's, babybooms en colorbooms. Ook leer je de trendy aura met de airbrush zetten. Daarnaast leer je hoe je zonder al te veel moeite van kleur wisselt en hoe je met verschillende producten té leuke designs maakt.
Deze workshop is niet alleen ontwikkeld om jou te leren airbrushen. Maar ook om jou te leren hoe je je airbrush gebruikt, schoonmaakt en problemen oplost.
Aan het eind van de les ga je met enorm veel informatie inspiratie en een compleet nieuwe techniek naar huis!
Deze workshop komt met een handige hand-out. Zodat je alles terug kunt lezen.
Wat heb je nodig
Air brush apparaat
Brushwipes
Tabletowels
Micro correctie sticks
Moyra liquid tape
Urban Nails Inkt
(Wanneer dit er is) Airbrush gel
Aceton (voor de gel)
Plakband
Sjablonen
Schaar
Kant (bijvoorbeeld de vitrage van je oma)
Gelpolish (lichte tinten zoals de Urban Nails Pale Pastel collectie)
Matte topgel
Next topgel
Enchanted gelpolish
Matte glittertop
Als je geen materiaal of producten hebt kunnen die altijd worden aangeschaft in onze winkel.
Als je het ons door geeft dan zorgen wij dat het klaar ligt voor je.
De workshop duurt van 10.00uur tot ongeveer 14.00uur (kan uitlopen)
Maximaal 10 plaatsen
Na ontvangst van de betaling kom je in een app- groep met alle informatie en benodigdheden die we gebruiken.
Wat je in huis hebt neem je mee en de rest kan vooraf besteld worden en evt aangeschaft worden in de winkel ter plaats.
Na inschrijving & betaling is je inschrijving pas definitief.
Voorwaardes afmelden
OPGELET! Betaling dient op onze rekening te staan 2 weken voor aanvang van de workshop.
– Annuleren met recht op restitutie is 1 maand.
– Annuleren binnen 2 weken voor aanvang geeft recht op 50% restitutie.
– Annuleren 1 week voor aanvang is 0% restitutie.
Omdat we met gastdocentes werken gaat de opleiding enkel door mits voldoende inschrijvingen.
Reviews
Er zijn nog geen reviews geschreven over dit product.
Nieuwsbrief