Nagelstyliste opleidingen & workshops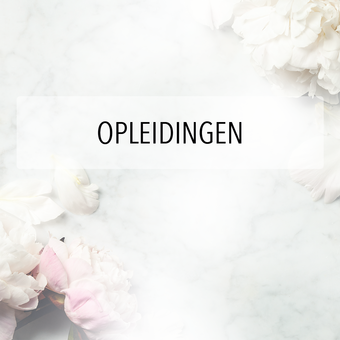 Ben jij op zoek naar een uitgebreide, praktijkgerichte (allround) nagelstyliste opleiding waarbij je goed begeleidt wordt? Of ben jij al een ervaren nagelstyliste maar wil je je kennis uitbreiden?
Dan ben je bij Sher Nailproducts in Boxmeer aan het juiste adres!

De opleidingen worden gegeven door Sher, een zeer ervaren opleider en nagelstyliste. 
Sher is de eigenaresse van zowel Sher Nailproducts (groothandel + opleidingen) als Sher Nailproducts Salon (nagelsalon). 
Aanbod van verschillende (allround) nagelstyliste opleidingen
Losse modules zoals gellak / gelpolish mogelijk
Praktijkgerichte lessen, ook theorie komt aan bod
maximaal 4 cursisten tijdens een allround nagelstyliste opleiding
zeer ervaren opleider Nagelstyliste
proefexamen (afhankelijk van de gekozen opleiding)
landelijk examen theorie + praktijk (afhankelijk van de gekozen opleiding)
officieel diploma (afhankelijk van de gekozen opleiding)
opleidingsdagen en tijden zijn bespreekbaar; weekend en avonden mogelijk
flexibele startdata van alle nagelstyliste opleidingen
locatie opleiding: Boxmeer (omgeving Cuijk, Nijmegen, Venray, Venlo, Uden)
Benieuwd naar alle opleidingen? Klik dan hier voor een overzicht. 

Bij Sher Nailproducts adviseren we je graag in de mogelijkheden van al onze nagelstyliste opleidingen.
Wij bieden onder andere de Allround Nagelstyliste opleiding aan waarbij er keuzes zijn in de modules die aan bod komen (gellak, acryl, gel, nextgel), maar bijvoorbeeld ook losse modules zoals een gellak - gelpolish nagelstyliste opleiding of de Prof Allround Nagelstyliste opleiding voor de al gevordere nagelstylisten. 
We werken uitsluitend met het kwaliteitsmerk Urban Nails.
Wij bij Sher Nailproducts werken met kleine groepjes om de aandacht zo goed mogelijk te verdelen. De persoonlijke aandacht en uitgebreide ervaring van de opleider maakt deze opleiding tot een van de beste Allround Nagelstyliste opleiding in de regio Boxmeer. 

Deze Allround Nagelstyliste opleiding vindt plaats bij Sher Nailproducts in Boxmeer. 
Boxmeer ligt gelegen in de regio Cuijk - Nijmegen - Venray - Venlo - Uden.
Er is voldoende parkeergelegenheid aanwezig in Boxmeer. 
Mocht je interesse hebben in de opleiding vragen wij je contact op te nemen met Sher via telefoonnummer 0651600217 om vrijblijvende afspraak te maken.
Dit zodat je kunt zien en ervaren waar je de opleiding wilt gaan volgen.
Zo kan Sher je ook nog laten zien hoe wij werken en je vragen nog beantwoorden.